Weed management is an integral part of dry bean production.  Tillage system, equipment capabilities, target weed species and herbicide type and limitations are a number of factors that influence herbicide choice and application timing.  Application timing can influence herbicide performance.  The goal is to maximize herbicide performance for the production system and weed spectrum you are targeting.  Permit herbicide has a wide window of application timing including preplant incorporated (PPI), preemergence (PRE) and postemergence (POST).       
Background
Over 60 weed control trials in dry bean have been conducted since 2008 with Permit at 19 g/ac applied either PPI, PRE or POST.  This provides a good basis for comparing weed control efficacy of Permit at different application timings.  Comparisons are for Permit applied alone and do not include any tankmixes.  Weed control ratings used for this summary were conducted 8 weeks after emergence in soil applied trials (PPI or PRE) and 8 weeks after application in POST applied trials.  Nine of the most common weed species evaluated at the Huron Research Station and Ridgetown Campus over the past 13 field seasons will be presented.
Results
Lambsquarters
Lambsquarters control is dramatically affected by Permit application timing.  Control with PPI applications exceeded 90% while PRE applications provided slightly greater than 70% control.  Lambsquarters control with Permit applied POST dropped substantially to just over 30%.  Permit applications should be made PPI or PRE, and where possible PPI applications would be preferred.  Permit will not provide adequate lambsquarters control applied post.
Wild Mustard
Permit provides excellent wild mustard control across all application timings.
Pigweeds (green & redroot)
Permit should be applied PPI or PRE for the greatest level of pigweed control.  Permit provides excellent pigweed control with PPI applications, good control with PRE and fair control with POST applications.  Permit applied POST will provide suppression of pigweed.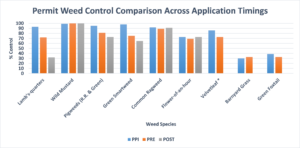 Green Smartweed
Permit provides excellent control of green smartweed when applied PPI.  PRE and POST applications provide fair control but will not provide adequate season long control.
Common Ragweed
Common ragweed control is good to excellent across all three application timings of Permit with very little difference between treatment timings.
Flower-of-an-hour
Permit provides fair control of flower-of-an-hour across all three application timings.  There is no advantage of one timing over the other.
Velvetleaf
PPI applications of Permit provide good to excellent velvetleaf control.  PRE applications provide fair control of velvetleaf.  There was insufficient data available to make a fair comparison with POST applications.  The Permit label indicates velvetleaf control at 19 g/ac with weeds up to 23 cm in height.
Barnyard Grass and Green Foxtail
Permit applied POST does not provide barnyard grass or foxtail control.  Soil applied applications (PPI & PRE) provide some suppression with control between 30 and 40%.  A grass herbicide tankmix partner must be considered for adequate control.
Conclusions
PPI applications of Permit provide a level of insurance, so to speak, as the herbicide is mixed in the soil solution shortly after application.  PPI applications generally provided the highest level of weed control across species evaluated.
PRE applications of Permit are dependent on timely rainfall to dissolve the herbicide into soil-water solution so that it can be taken up by the developing weed seedling.  Applications should be targeted around rain events if possible.  If timelines are tight and a grower feels planting is more important than applying Permit PPI, then applying Permit PRE allows flexibility to come in after the crop is planted.  There is a risk that weed control may be diminished if an adequate rainfall does not occur in the days following application.
Soil applied applications should be the first line of defense, with Permit, but there are instances where a POST application would make sense.  Where soil applied applications cannot be made, due to weather or time constraints, Permit applied POST will provide good to excellent control of wild mustard and common ragweed.  In addition, specific weed issues, like yellow nutsedge, can be addressed with a POST application.
Knowledge of how Permit performs on individual weeds species at different application timings is critical for success.
Recap
PPI applications of Permit provide the greatest control of lambsquarters, pigweeds, and green smartweed followed by PRE and then POST.  Permit should not be considered for control of lambsquarters using a POST application.
Permit applied PPI provides greater control of velvetleaf than PRE applications.
Control of wild mustard, common ragweed and flower-of-an hour are similar across application timings of Permit.
Permit applied PPI and PRE provides poor control of barnyard grass and green foxtail.
For further information please contact Peter Sikkema (psikkema@uoguelph.ca) or Todd Cowan (tcowan@uoguelph.ca)
This article was written by Todd Cowan and Peter Sikkema.