Herbicides are commonly used as a harvest aid for beans in Canada. Glyphosate has been a popular choice, but there is risk of herbicide residues.  The purpose of this study was to compare new harvest aid herbicides for residues in the bean seed.      
A total of 11 field studies were done at Lethbridge AB, Carmen MB and Exeter ON in 2010-2012. Reglone (diquat), Aim (carfentrazone-ethyl), Ignite (glufosinate ammonium), Valtera (flumioxazin) and Eragon (saflufenacil) were tested alone, and in combination with glyphosate. All treatments were applied when 80% of the pods had changed colour. Crop desiccation, seed pick, seed weight, yield and herbicide residues in seed were measured.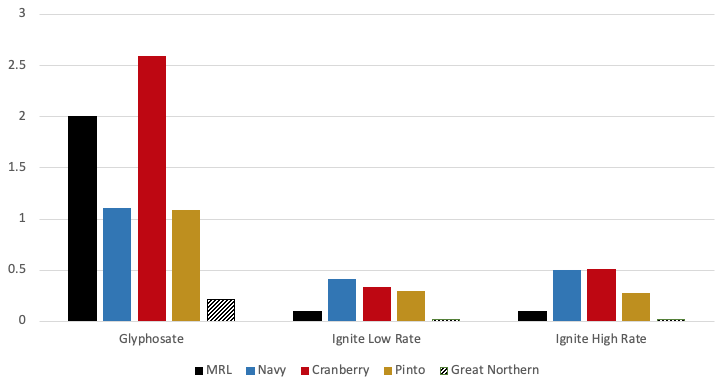 The treatments did not affect crop yield, but the fast acting herbicides (e.g. Reglone, Eragon) reduced seed weight and increased seed pick values (data not shown).  Residues from Aim, Valtera and Eragon were not detectable. Glyphosate resides were above the MRL in cranberry beans only (Figure 1). Residues in cranberry beans were lower when Reglone was added to glyphosate but remained high when Aim or Eragon were added to glyphosate. The treatments were applied slightly earlier than the recommendation on the glyphosate label, to have consistent application timing for all herbicides. It was surprising that Ignite residues were above the European MRL in navy, cranberry and pinto beans. Therefore, Ignite should not be used as a pre-harvest herbicide in dry beans unless the beans will be exported to countries with MRLs higher than the residue levels shown in Figure 1. Growers are advised to consult with their dealer regarding approved preharvest herbicides.     
Originally published in Canadian Journal of Plant Science 2015. Volume 95. Pages 1235-1242. Updated in July 2020 for drybeanagronomy.ca.